No Cost EMI :
Bank Offer (2) :
Partner Offer :
Description
Tonnage : 2.0 Ton
Energy Rating : 3 Star
Compressor Type:  DUAL Inverter
AI Convertible 6-in-1 Cooling
Artificial Intelligency cooling mode
ADC Sensor
HD Filter with Anti Virus Protection
4 Way Swing
Warranty

 

: 1 Year

 

comprehensive 

+ 5 Years PCB Board + 10 Years Compressor
Note :
 

Installation of Air Conditioner is charged extra to the customer at the time of Installation
Additional Information

| | |
| --- | --- |
|  Manufacturer | LG Electronics |
| Importer | LG Electronics India Pvt Ltd |

AI Convertible 6-in-1 Cooling
With AI Convertible 6-in-1 user gets a flexibility to increase or decrease cooling capacity as per requirements. At the same time with its Artificial Intelligence convertible mode and inbuilt sensors, the air conditioner will give perfect cooling by automatically analyzing current conditions and inputs given by the sensors.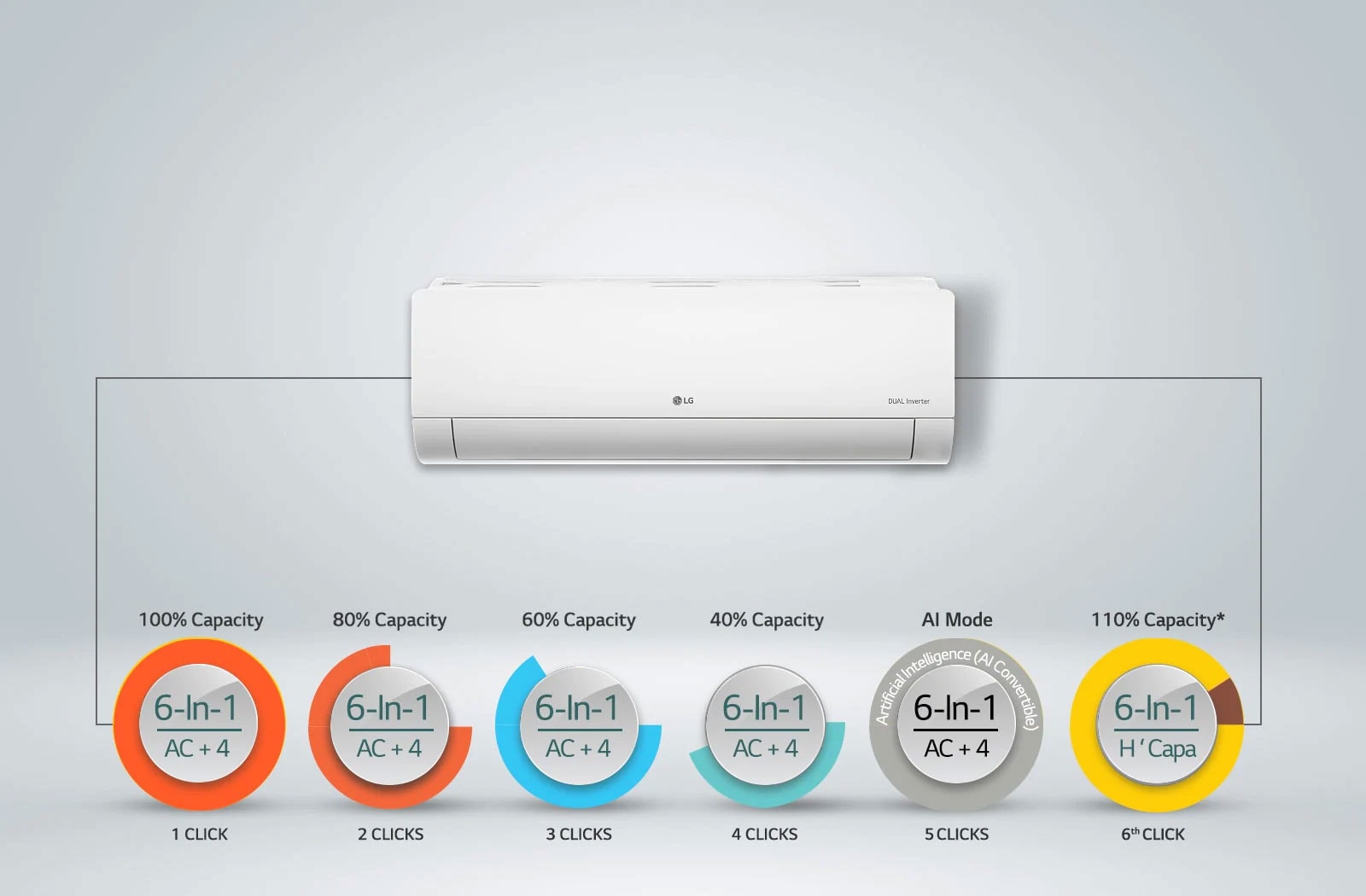 ADC Sensor
LG Air Conditioners comes with ADC Safety sensors as a built of robustness and power of safety at every step of operation, which makes them highly durable and ensure a stable operation.
HD Filter with Anti-Virus Protection
LG DUAL Inverter Air Conditioner now comes with an 'Anti-Virus' protection layer fitted HD Filter. The filter mesh is coated with Cationic Silver Ions (AgNPs) that deactivates more than 99% Virus
#
and bacteria* in contact. To be precise, it demobilizes up to 99.76% Virus
#
and up to 99.99% bacteria* cleansing.
Ocean Black Fin
LG DUALCOOL ACs comes with Ocean Black Fin to offer unbeatable protection against dust, smoke and chemicals presents in environment and also offers protection against fin corrosion which in return provide better cooling and cost saving.


100% Copper Tubes with Ocean Black Protection
Special Ocean Black Protection applied on Copper tubes of both Indoor & Outdoor unit provides exceptional durability for the air conditioner in typical Indian regions affected from sand, salt, industrial smoke and pollutants.
Stabilizer Free Plus
Compressor is the most important component of an air conditioner, enhanced range of stabilizer free operation prevents voltage fluctuation, causing it damage.
DIMENSIONS