No Cost EMI :
Bank Offer (2) :
Partner Offer :
Description
Tonnage : 1.5 Ton
Energy Rating : 5 Star
Compressor Type: AI DUAL Inverter
AI Convertible 6-in-1 Cooling
Artificial Intelligence Cooling Mode
ADC Sensor
4 Way Swing
HD Filter with Anti Virus Protection
Warranty : 1 Year

comprehensive 

+ 5 Years PCB Board + 10 Years Compressor
Note :
Installation of Air Conditioner is charged extra to the customer at the time of Installation
Additional Information

| | |
| --- | --- |
|  Manufacturer | LG Electronics |
| Importer | LG Electronics India Pvt Ltd |
AI DUAL Inverter
LG's DUAL Inverter Air conditioners with variable tonnage technology are now smarter with the addition of Artificial Intelligence. The AI Dual Inverter predicts not only the appropriate cooling capacity, but also senses room conditions, and it chooses the required fan speed, Vane position & temperature settings.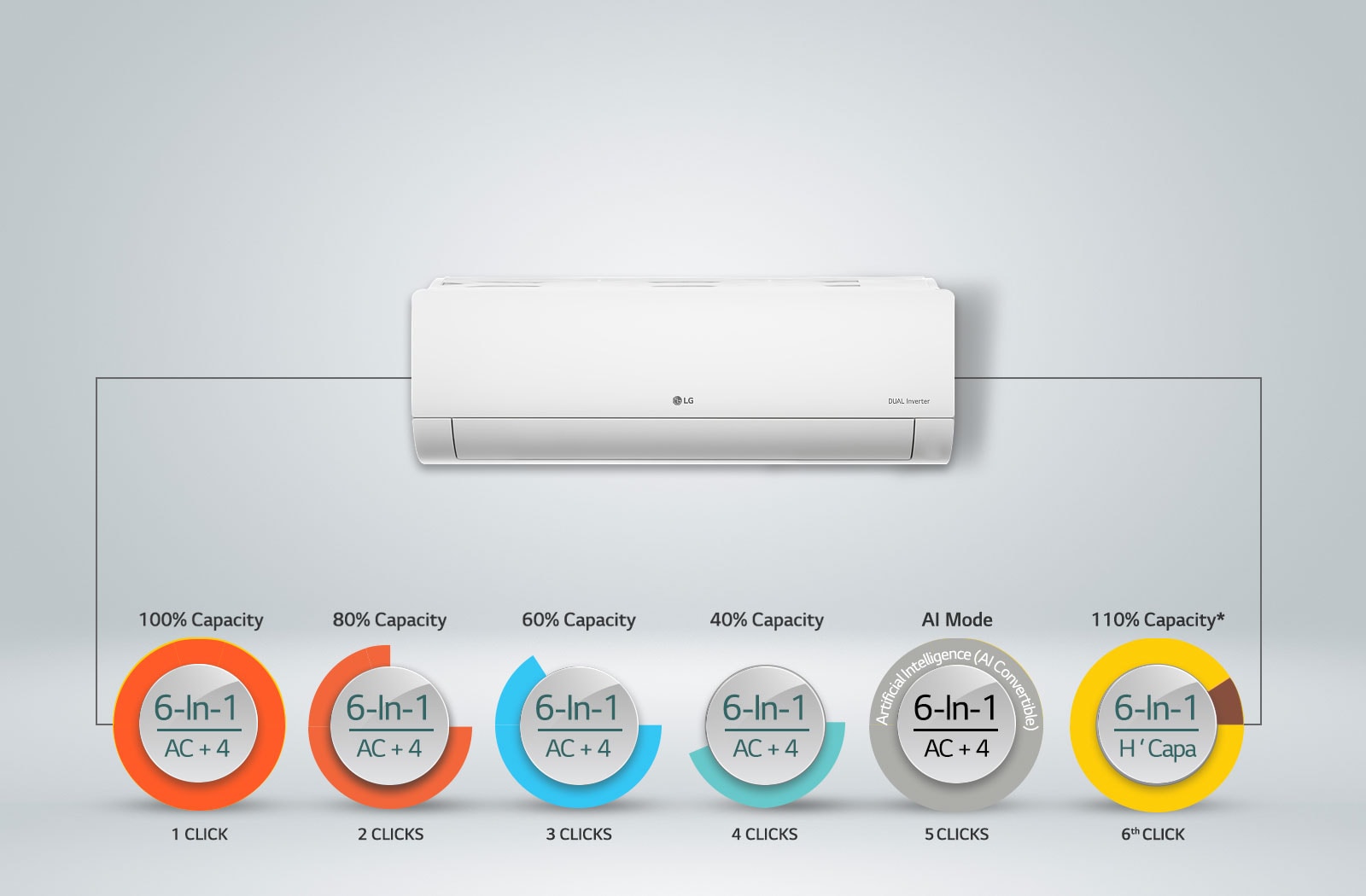 AI Convertible 6-in-1 Cooling
With AI Convertible 6-in-1 user gets a flexibility to increase or decrease cooling capacity as per requirements. At the same time with its Artificial Intelligence convertible mode and inbuilt sensors, the air conditioner will give perfect cooling by automatically analyzing current conditions and inputs given by the sensors.
HD Filter with Anti-Virus Protection
LG DUAL Inverter Air Conditioner now comes with an 'Anti-Virus' protection layer fitted HD Filter. The filter mesh is coated with Cationic Silver Ions (AgNPs) that deactivates more than 99% Virus
#
and bacteria* in contact. To be precise, it demobilizes up to 99.76% Virus
#
and up to 99.99% bacteria* cleansing.
*Tested as per ISO 21702: 2019 on MS2 Bacteriophage (an RNA virus of the family Leviviridae). MS2 Bacteriophages are used as a surrogate virus (particularly in place of Picornaviruses such as Poliovirus and human Norovirus). Due to individual sensitivities, the results of one test virus might not be applicable for other viruses.
**The filter is not a substitute to the mandatory precautions prescribed by the government such as wearing masks, social distancing, usage of hand sanitizers & surface hygiene practices.
*Tested as per JIS Z 2801: 2010 on Staphylococcus aureus ATCC 6538 & Escherichia coli ATCC 8739. For Escherichia coli ATCC 8739 reduction up 99.69%.
Stabilizer Free Plus
Compressor is the most important component of an air conditioner, enhanced range of stabilizer free operation prevents voltage fluctuation, causing it damage.



DIMENSIONS